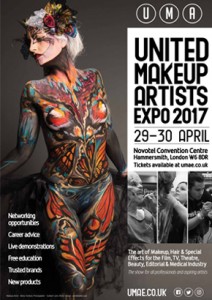 United Makeup Artists' expo (UMAe) April 29th & 30th for makeup artists and hair/wig dressers is entering its 5th year.
UMAe teams up with the industry leaders of Film, TV & Theatre to deliver a Make-up Artists' expo with a different ethos rather than being purely product driven.
Our ethos is to do our very best for, and listen to, our exhibitors and visitors and to support professional and aspiring makeup artists & industry hair/wig dressers/barbers.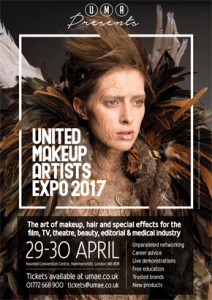 We maintain a strong focus on the availability of Education to all attendees at no extra charge.
We give them the opportunity to meet and interact with the best in the business and to learn, from the experts, the latest techniques and products available to pursue a career in the Film, TV, Theatre and Medical industries.
Our education is different on both days and takes on many forms:
Award winning Guest Speakers, High profile Industry attendees, Professional advice from Exhibitors, Master Classes, Industry Seminars/Tutorials, Interactive Workshops, Individual Portfolio advice from our Guest Speakers & Experienced Exhibitors, Amazing Demonstrations, both on the Show Floor and during the Tutorial, Career path advice.
The expo exhibits at the: The Novotel Convention Centre, London West, 1 Shortlands, London W6 8DR
This centre offers: 
Excellent convention facilities
Easy road travel accessibility & no congestion charge
Inclusive high speed broadband
500 room onsite accommodation
Coach bay parking
Formal & informal dining options with 2 Restaurants,
Lounge Bar & Grill, Snack Bar & Buffet
3 of London main Tube lines within 3 minutes' walk
20 minutes access to Heathrow Airport
Tickets are on sale offer !!!! Hurry, the sooner you buy the cheaper they are. Book now at http://www.umae.co.uk/tickets.html