Please check back as more names will be added as they confirm for our 2019 show
Chris Lyons (Character Teeth and Prosthetic Facial Effects)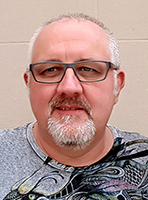 Meet the man behind Freddie Mercury's teeth for Bohemian Rhapsody.
Creating specialised character teeth and prosthetic facial effects for film, television, theatre and multimedia promotional productions. Fangs FX are Based in Buckinghamshire, Chris Lyons heads up a team of very talented professionals.

Check out Chris's IMDb page (Makeup Department 558 credits)
The whole Fangs team are dedicated and reliable and offer a high quality service. This is reflected in the clientèle who have come to rely on Chris and his team, from award winning personal make-up artists to special effects companies who have gone on to win BAFTA's and Oscars. Every challenge has been met with imaginative design and skill. Of prime importance are the exclusive procedures that ensure no damage to teeth or tissue is sustained by the artiste. Fangs Fx Portfolio
Hannah Wing (Professional Makeup Artist)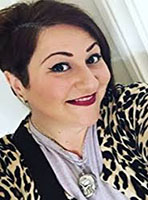 Since 2007, Hannah has worked on numerous film and television projects.
She is part of the hair & makeup team at
Channel 4's Sunday Brunch as well as working on shows like The One Show (BBC1), The Wright Stuff (Channel 5) and Loose Women (ITV).
In addition to her film & TV work, Hannah has an extensive list of commercial, corporate and private clients whom she works with on a regular basis.
Her work to date has seen her develop a broad skill set – carrying out complex designs for hair and makeup, special effects, making prosthetics, barbering, fitting and maintaining wigs as well styling and wardrobe design and supervision. She won Best Hair & Makeup Design at Birmingham Film Festival in 2017 for her work on Whirlpool about the adult life of activist Helen Keller and is the author, makeup artist and stylist of Vintage Beauty Parlour and the co-author of The Vintage Fashion Bible with Wayne and Geraldine Hemingway.
Tanya Noor (Head of Makeup at Phantom Of The Opera, Founder GetSetGo Bags)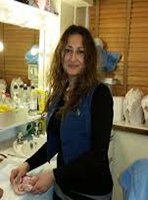 Tanya trained at the prestigious London College of Fashion in the early 1990's and has been an established Makeup Artist for over 25 years working in the fashion, theatre and film industry.
Currently Tanya is
Head of Makeup at Phantom of the Opera
at Her Majesties Theatre in the West End of London.
Presented by:
Get-Set-Go-Bags
Role : Educator
Location : Main Stage, Show floor, Education
Time : Both Days
Website:
Tanya Noor
While Phanton has played a big part of Tanya's career she has also worked on productions for the Royal Ballet, Royal Variety Performance, BBC Childrens in Need, This Morning as well as a host of films working as a daily makeup artist. Tanya is a master of makeup, creating wigs, prosthetics, straight and character makeup. Tanya is very well respected in the makeup industry and is often called in by other artists for her expertise.
Mona Turnbull (Award winning face and body painting artist)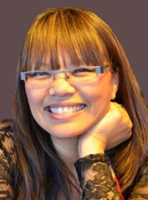 Mona Turnbull's view of life is through the prism of her artist's eye. She has a background including a BA in Business & Advertising Management but she keeps finding herself drawn back to the world of colour. She has undertaken art study with some of the best in the business and now also runs her own workshops from her studio and for various makeup schools.
Photographing her face and body painting work is a growing skill but anything that can loosely be corralled in the decorative arts is of interest. Flowers and fine art effects are popular subject choices. As an award-winning bodypainter, her work has been seen on screen, stage and huge events including the BAFTAs.
Mona's enthusiasm and sparkling personality make her a sought-after artist and regular demonstration painter at events such as UMAe London and for entities such as Kryolan UK, ScreenFace London and Makeup Atelier Paris. She is also a tutor at Iver Academy - Pinewood Studios.
Julia Townend (Makeup Artist)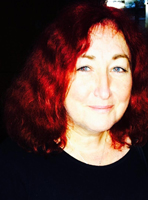 Julia is a London based Makeup & Body Artist with over 20 years experience of working in fashion, theatre, film & TV. She combined her freelance career with working as an educator London College of Fashion and West Thames College until 2013. Now working back fulltime as a freelance Makeup Artist on various productions; Julia works additionally as an academic consultant for a number of universities and private academies.
In 2013 Julia, helped by her sisters, developed the JT Makeup Studio range. "It has been very organic and created with my love of fantasy, art, history and fairytale."
This product range is used regularly by makeup artists in the film, theatre and fashion industries, and received from fellow makeup artists such as Polly Osmond, Lan Nguyen- Grealis, Julia Carta, Pixi Woo and Phyllis Cohen
Brian Kinney (Makeup Artist)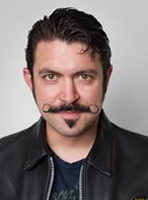 Brian Kinney is a prime time Emmy-nominated makeup artist and a Journeyman in IATSE Local 706 Make-up Artists and Hairstylists Guild in Hollywood.
Presented by:
Full Slap FX
Role : Speaker, Demonstrator
Location : Education, Show floor
Time : TBC
Website:
Full Slap FX
Amanda Green (Makeup Artist)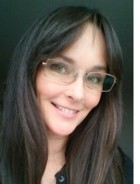 Amanda Green, make up artist and designer to some of the most famous faces on TV has created intensive professional makeup artist courses for anyone interested in learning the art of makeup.
Presented by: The Makeup Artist Academy

Role : Speaker / Educator
Location : Education
Time : TBC

Website: The Makeup Artist Academy
Amanda has worked in the media industry for over 25 years and some of her clients include artists such as Graham Norton, John Malkovich, Alicia Silverstone, Alesha Dixon, Ricky Gervais, Beverley Knight, John Barrowman, Jay Sean, Tom Jones, Isabella Rossellini etc., the list goes on...
Maria Malone-Guerbaa (Professional Make-up & Face Paint Artist)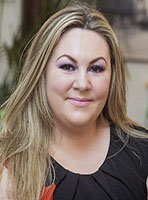 Maria started her career as a portrait artist in Limerick with a dream for film and TV life. She later left for London and studied in Camden Town in CBMA. After years learning from experts in their field Maria discovered face and body painting and realised that her love of portraitists and art could come alive on the faces and body's of real people and discovered she had the ability to transform people into celebrities and real life animals.
Her incredible talent and artistry took her global and her work was showcased around the world, from This Morning, The One Show, Today in the USA, to Spain and Germany around the world. Today Maria provides beautifully artistic designs for film and TV and teaches her skills to transform your own face.
All artist booking's are provisional and subject to cancellation at short notice due to work commitments. We must stress that if an artist cannot attend United Makeup Artists expo the organisers shall not accept this as a reason for an attendee wishing to cancel or requesting a refund. All e-tickets are purchased subject to our terms and conditions and are non refundable under any circumstance