Speakers Demonstrators & Educators 2018
Please check back as more names will be added as they confirm for our 2018 show
Francesca Neill (Professional Makeup Artist)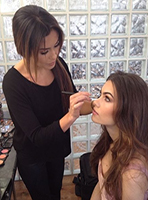 Francesca is a highly respected, professional makeup artist who is constantly pushing the boundaries of creativity. With her unique talent and fresh, flawless approach to beauty she has become indispensable to celebrities, photographers and private clients alike.
Throughout her career, Francesca has maintained prominence within the entertainment industry collaborating with many of the UK's most recognisable artists, working on the nations most popular TV shows, and touring with some of the UK's highest profile musicians.


Clients include:
Alesha Dixon, Rochelle Humes, Cheryl, Little Mix, Nadine Coyle, Girls Aloud, Louisa Johnson, Amanda Holden, All Saints,
TV Shows / Publications / Tours: Britain's Got Talent, X Factor, Strictly Come Dancing, Girls Aloud Tour, London Fashion Week, New York Fashion Week
Sheila McKenna (Professional Makeup Artist)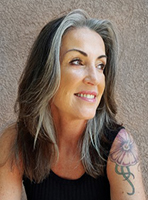 Sheila McKenna, President and Founder of Kett Cosmetics, is an industry veteran with over 30 years experience in makeup artistry. Her work has been seen in film, television, print, theatre and runway. She is widely recognised as an expert in the field of airbrush makeup artistry and has served as the subject matter authority for several publications.
Sheila also founded Kett airbrush equipment in 2000 in response to the elevated standards presented by the advent of hi-definition cameras. Kett's entire range was produced in a lab and tested in front of high-definition and digital cameras. Today, Kett Cosmetics is globally recognised and considered an essential brand for professional artists, makeup academies, studios and television networks. Kett Cosmetics products are gluten free, silicone free, paraben free and never tested on animals.

For more than a decade, Kett Cosmetics has supplied the professional makeup industry with products that neutralize the unforgiving lens of the high-definition camera. By developing their products in a lab and using a hi-def camera as a microscope, Kett created a line of highly effective foundations, liquid pigments, cremes and setting powders that provide long-lasting, flawless coverage with the flexibility to create endless looks.
Chris Lyons (Character teeth and prosthetic facial effects)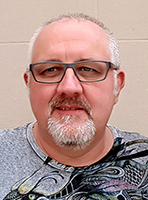 Creating specialised character teeth and prosthetic facial effects for film, television, theatre and multimedia promotional productions. Fangs FX are Based in Buckinghamshire, Chris Lyons heads up a team of very talented professionals. The whole Fangs team are dedicated and reliable and offer a high quality service.

Check out Chris's IMDb page (Makeup Department 558 credits)






This is reflected in the clientèle who have come to rely on Chris and his team, from award winning personal make-up artists to special effects companies who have gone on to win BAFTA's and Oscars. Every challenge has been met with imaginative design and skill. Of prime importance are the exclusive procedures that ensure no damage to teeth or tissue is sustained by the artiste.
Fangs Fx Portfolio
Gemma Horner (Professional Makeup Artist)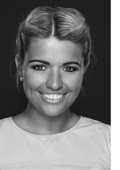 Gemma is a London/Essex based freelance Make-Up Artist. Gemma is also part of the Kryolan international team, she has worked in all disciplines of the Make-Up industry, from Theatre to Fashion, Body Painting to Camouflage.





"Being a Make-Up Artist is more than just a job for me, its a way of life. It is an outlet for me to use my creative skills and express my imagination I am passionate about my work and always deliver on time to meet the needs of the brief. Always compassionate and caring, I have a decided talent for accentuating the best points in each client; minimising any physical and emotional flaws of skin disfigurements.
Donna Clitheroe (Professional Makeup Artist)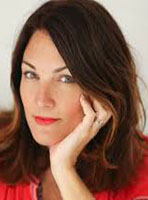 Donna May graduated from the prestigious London College of Fashion, in 1996 and specialises in TV Light Entertainment and Daytime shows, with many credits under her belt.
With 20 years experience, Donna May has been integral to the 're-styling' of many different show's 'looks' and has become essential to continuing glamorous presentation on TV.
With 20 years' experience, Donna May graduated from the prestigious London College of Fashion, in 1996 and specialises in TV Light Entertainment and Daytime, with many credits including Strictly Come Dancing, An Audience With Take That and currently, the award-winning daytime panel show Loose Women.

Donna May, who designed the red lip logo earlier this year, explained: "I never go anywhere without my red lipstick and when I was doodling earlier this year the design was perfect for a range of make-up accessorises." Website:
Donna May Makeup Shop
Hannah Wing (Professional Makeup Artist)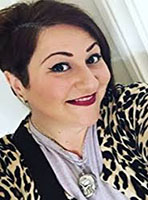 Since 2007, Hannah has worked on numerous film and television projects.
She is part of the hair & makeup team at
Channel 4's Sunday Brunch as well as working on shows like The One Show (BBC1), The Wright Stuff (Channel 5) and Loose Women (ITV).
In addition to her film & TV work, Hannah has an extensive list of commercial, corporate and private clients whom she works with on a regular basis.
Presented by:
Airbase
Role : Speaker
Location : Show floor
Time : Both Days
Website:
Hannah Wing
Her work to date has seen her develop a broad skill set – carrying out complex designs for hair and makeup, special effects, making prosthetics, barbering, fitting and maintaining wigs as well styling and wardrobe design and supervision. She won Best Hair & Makeup Design at Birmingham Film Festival in 2017 for her work on Whirlpool about the adult life of activist Helen Keller and is the author, makeup artist and stylist of Vintage Beauty Parlour and the co-author of The Vintage Fashion Bible with Wayne and Geraldine Hemingway.
Tanya Noor (Head of Makeup at Phantom Of The Opera)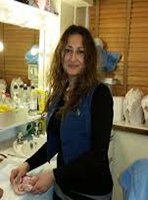 Tanya trained at the prestigious London College of Fashion in the early 1990's and has been an established Makeup Artist for over 25 years working in the fashion, theatre and film industry.
Currently Tanya is Head of Makeup at Phantom of the Opera at Her Majesties Theatre in the West End of London.
Presented by:
Get-Set-Go-Bags
Role : Educator
Location : Show floor
Time : Both Days
While Phanton has played a big part of Tanyas career she has also worked on productions for the Royal Ballet, Royal Variety Performance, BBC Childrens in Need, This Morning as well as a host of films working as a daily makeup artist. Tanya is a master of makeup, creating wigs, prosthetics, straight and character makeup. Tanya is very well respected in the makeup industry and is often called in by other artists for her expertise.
Maria Malone-Guerbaa (Professional Make-up & Face Paint Artist)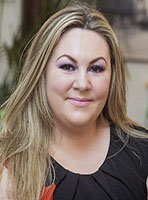 Maria started her career as a portrait artist in Limerick with a dream for film and TV life. She later left for London and studied in Camden Town in CBMA. After years learning from experts in their field Maria discovered face and body painting and realised that her love of portraitists and art could come alive on the faces and body's of real people and discovered she had the ability to transform people into celebrities and real life animals.
Maria will be hosting an education class, so keep a look out in the education schedule when its released in the coming weeks.
Presented by:
Airbase
Role : Educator
Location : Show floor
Time : Both Days
Website:
Maria Malone
Her incredible talent and artistry took her global and her work was showcased around the world, from This Morning, The One Show, Today in the USA, to Spain and Germany around the world. Today Maria provides beautifully artistic designs for film and TV and teaches her skills to transform your own face.
Joey Bevan ( Fashion Stylist, Fashion Designer & Hair Stylist )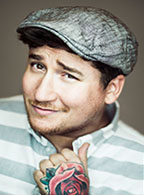 Joey Bevan, is an established name in the fashion & beauty industry, working alongside celebrities and clients on the international music and fashion scene.
With a team of models, MUAs and Hair Stylists, Joey will be demonstrating how the different elements of the team need to work together, how best to communicate ideas and collaborate to achieve the final image. As a brilliant fashion stylist and designer himself, he has worked on hundreds of shoots and is full of tips on how to create a positive and productive work environment.
Presented by:
Joey Bevan
Role : Speaker
Location : Show floor
Time : Both Days
With the success of his first introductory fashion show in the summer of 2010, where Joey was head-hunted for Britain's Next Top Model Live 2010 & The Ideal Home Show 2011, where he had the honour to meet HRH Prince Charles. His designs & styling have featured on British Xfactor, BINTM, ANTM, Vogue IT, INSTYLE, MTA and many more editorials, TV and music videos. Working Along side HRH Prince Charles, D&G, DIOR, The Saturdays, Stooshe, Jessie J, Diana Vickers, Eliza Doolittle, Aggro Santos, Lydia Rose Bright, Janice Dickenson, Kate Magowen, Melanie Sykes, Kimberly Walsh and many more.
Tina Earnshaw (Oscar Nominated Makeup Artist)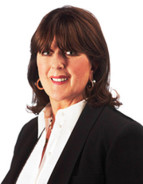 When Tina was a sixteen year old junior at the Max Factor salon in London's Bond Street, she was often starstruck – amazed to find herself in the same room as all the famous film stars that came in to get made up. What she didn't know then, was just how close to those famous faces she was going to get in the future…
Having acquired her professional qualifications on a BBC training course, she gained wide experience in TV, then moved on to fashion shoots with many of London's top photographers, before working on many of the iconic cinema and television commercials in the golden age of British advertising.
Presented by:
Tina Earnshaw
Role : Speaker
Location : Show floor
Time : Both Days
Now a highly sought after make-up artist Tina gets up-close and personal with some of the biggest stars in the business, on a regular basis – having worked with Kate Blanchet, Helena Bonham Carter, Gwyneth Paltrow, Penelope Cruz, Rachel Weisz, Jessica Chastain, Cameron Diaz, Nicole Kidman, Jennifer Connolly, Kate Winslet, Christian Bale, Matt Damon, Owen Wilson, Brad Pitt and Jude Law – to name just a few. Tina was nominated at the 70th Academy Awards for her work on the film Titanic in the category of Best Makeup. She shared her nomination with Greg Cannom and Simon Thompson. Tina a Hollywood favorite has worked on the sets of big movies like Titanic, Prometheus, MammaMia, Ever After, Spiderman 2, Sliding Doors, Exodus: Gods and Kings, The Martian to name a few. Tina has also worked with an enviable list of world-class photographers including David Bailey, Terry O'Neil, Richard Avedon, Herb Ritts, Tony McGee, Lord Snowdon, and Annie Leibovitz
Kate Benton (Hair and Make up Designer)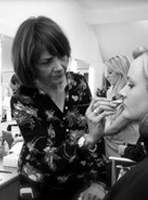 Role : Demonstrator
Location : PAM
Time : Both Days
Kate Benton, has just finished filming season 2 of the Netflix drama The Last Kingdom, and Fortitude for Sky Atlantic.

Owner of PAM make up - Pro about make up. Kate is passionate about sharing her knowledge and is keen for the new PAM, shortly to open in much larger premises in West London to become a centre of excellence where anyone interested in makeup can drop in to make use of the facilities - A make up studio, make up library and much more.

check out PAM on youtube for our extensive free back catalogue of educational videos from the top make up pro s in the industry.

Kate Griffiths (Special Effects Makeup Artist)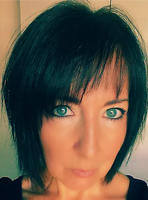 Role : Demonstrator
Location : Show Floor
With 15 year's experience working as a freelance theatrical makeup artist in film, TV and theatre Kate's varied work continues to take her across the UK from delivering workshops to college or uni students, to designing and applying makeup for stage, screen or editorial shoots and filming on location either here in the UK or abroad.
She enjoys and specializes in horror/trauma effects and has the NHS contract for extreme hospital casualty simulation exercises.She won the first Nick Dudman Pigs Might Fly South award for Best in Wigs and Makeup at the Technical Theatre Awards in 2014.
Mona Turnball (Award winning face and body painting artist)
Role : Speaker - Demonstrator/Educator
Location :Show floor
Mona Turnbull's view of life is through the prism of her artist's eye. With a background including a BA in Business & Advertising Management but, she is always drawn back to the world of colour. Now running face & body painting, creative make up and art business, she lives in Oxford, UK with her husband and two children.

She has undertaken art study with some of the best in the business and now also runs her own workshops from her studio and for various makeup schools. Mona's enthusiasm and sparkling personality make her a sought after artist and regular demonstration painter at events such as IMAT's London and for entities such as Kryolan UK, ScreenFace London and Makeup Atelier Paris. She is also a tutor at Iver Academy, Pinewood Studios.

Photographing her face and body painting work is a growing skill but anything that can loosely be corralled in the decorative arts is of interest – flowers and fine art effects are popular subject choices. Some of her work were recently featured in a TV series Outlander and on billboard on M5 near Birmingham and M4 London.
Recognition and Awards:
Highly Commended Wearable Art Designer Category @ Painswich Art Couture July'16
3rd Place – War Paint Body Painting Category at the Professional Beauty Oct'14
3rd Place – Professor/Apprentice Body Art Award @ Paiontopia Festival May'14
Kryolan's guest speaker for their Marathon Masterclass 2013 at the Royal Opera House
'Illusion Magazine Inspirational Artist Award 2013' at Paintopia Face&Body Art Festival in May'13
Charles H Fox Award 2011
Brian Kinney (Makeup Artist)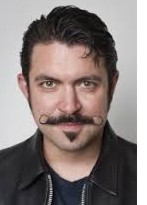 Role : Educator / Demonstrator
Location : Show floor
Time : Both Days
Brian Kinney is a prime time Emmy-nominated makeup artist and a Journeyman in IATSE Local 706 Make-up Artists and Hairstylists Guild in Hollywood.
Giuseppe Cannas (Head of make up and wigs at the National Theatre)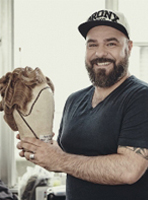 Role :Demonstrator, Educator
Location :TBA
Cannas joined the NT in 2011, having spent seven years with Disney Theatrical, setting up productions of The Lion King over three continents. Although born in the sleepy Sardinian town of Cagliani, his training began in London, at Hammersmith and West London College.
Cannas has a demanding managerial role at the National, where he reports directly to the Theatre's Head of Costume. Although he is in charge of a 10-strong department, with all the administrative and financial responsibilities that brings, he likes to keep his hand in, and enjoys "putting on his blacks and grabbing his pouch" to do make-up himself.
In the world of theatre and entertainment, the highly-skilled roles of make-up artist and wig-maker are intertwined, and most courses train people to do both. All the wigs used at the National are created from human hair and made especially for the relevant actors, which means that separate ones are also made for under-studies, too – even if they are rarely used. Coloured swatches, to help with orders, are stacked up in plastic boxes, and the wigs will usually be styled closer to the production itself, depending on what is required by the designer. Members of his team act as supervisors for individual productions.
Dr Beryl De Souza (Plastic Surgeon)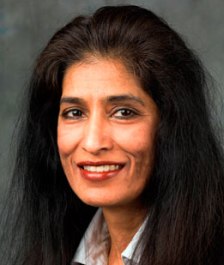 Role : Speaker
Location : Show Floor
Time : TBA
Dr Beryl De Souza is a Plastic Surgeon in London with a background in research and science and holds an Honorary Clinical Lectureship post in Plastic Surgery at Imperial Medical School. She holds a BSc in Biochemistry as a graduate of Chelsea College, University London. This was followed by a MPhil in Peripheral Nerve Regeneration at the Royal College of Surgeons of England, University of London. This prompted her to study Medicine and she is a graduate of St. Bartholomew's hospital, University London.
After working in Accident & Emergency she joined the Middlesex/University College Hospital surgical rotation going on to specialise in Plastic Surgery. She has sat on the Opportunities in Surgery Committee at the Royal College of Surgeons of England and is on the Medical Student Liaison committee. Dr. De Souza joined the Medical Women's Federation in 2005 and the important reason for her involvement in MWF is to try and facilitate a knowledge base and networking opportunity for women.
Dr. De Souza's specialist interest is in scars and in particular keloid scars.
Stuart Bray (Makeup Artist)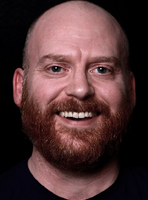 Role : Educator / Demonstrator
Location : Show floor (Both Days)
Stuart Bray is a freelance special effects makeup artist working in the film and television industry since 1994. He specialises in all the processes involved in making prosthetic appliances and make-up effects from design, sculpting, moulding, casting and application.
Jeanette Redmond (Barber)

Role : Educator / Demonstrator
Location : Show floor
Time : Show Floor both days
Jeanette RedmondJeanette Redmond has been working as a Hairdresser/Barber/Colour Specialist for Film/ TV Theatre sector for over 16 years……… Graduating as a Hair & Make Up Artist from UCA (London College fashion) 2000 Prior to coming into the industry Jeanette worked in salons & Barbers for 16 years in Chiswick, Kensington & Knightsbridge and is very proud to have assisted & worked alongside the very best in British Film Hairdressing Throughout her career Jeanette has used her transferable skills & knowledge and has worked as an IQA assessor & Educator in Hairdressing & Barbering, delivering the NVQ FRAMEWORK & Standards in both Further Eduction & Higher Education sectors. She also delivered Contemporary Hairdressing/Cutting & Period Barbering courses for Film & TV Degree courses at West Thames College & Northbrook College & Assessed work at UCA London College of Fashion. Jeanette still runs a full column 2 days a week at a plush salon near Ealing Studios, as their Creative Art Director/Barber & Colour Specialist
Phil Briggs (Make-up Artist & Skin Camouflage Practitioner)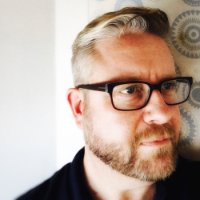 Role :Educator
Location :Show Floor
Phil has been a make-up artist for the past 19 years and added Skin Camouflage work to his skillset after completing the British Association of Skin Camouflage Diploma in 2010.
Phil has worked extensively in television news occupying the role of Head of Make-up at ITN for 11 years.
Two years ago Phil transferred to the world of freelancing to further explore the very rewarding side of Skin Camouflage work. He has helped hundreds of clients to face the world with improved confidence following one of his Skin Camouflage consultations.
He also finds that the skill of Skin Camouflage influences his make-up techniques every day.'
All artist booking's are provisional and subject to cancellation at short notice due to work commitments. We must stress that if an artist cannot attend United Makeup Artists expo the organisers shall not accept this as a reason for an attendee wishing to cancel or requesting a refund. All e-tickets are purchased subject to our terms and conditions and are non refundable under any circumstance